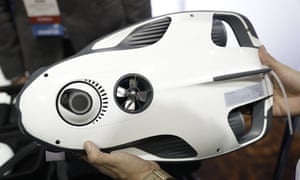 an underwater drone which on Thursday 5th January 2017, was being displayed by a woman dressed as a mermaid – is one of those. It's a little remote control submarine that a fisherman can hang bait on and then, using a live video feed that streams to a smart device, quietly direct the bait towards a shoal of fish.
The PowerRay costs $2,000, meaning that one would not only have to be extremely cynical, but also extremely rich to buy it.
Indeed at times CES, for all its digital bluster, felt like a 19th-century marketplace, with people hawking dubious products at scandalous prices from their hastily assembled stalls.
Copy the link below and Share with your Friends: