According to The Guardian, A mobile phone company known as
NTT Docomo,
has installed dispensers for "toilet paper" to be used on smartphones in the conveniences at Japan's Narita International Airport.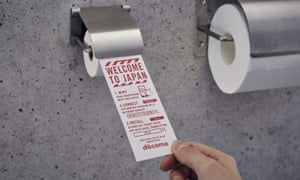 Narita International Airport's new toilet paper rolls feature wipes to clean smartphones, as bringing them into the bathroom stall may not be the most sanitary practice. Each sheet is as informative as it is practical: After welcoming users to Japan, they include information about the airport's Wi-Fi and an app with travel tips
The smartphone sheets, which bear the message "welcome to Japan", were installed in 86 toilet cubicles at Narita's arrivals
terminal, where they will remain until March 2017.
Docomo also published a light-hearted video demonstrating how to use the sheets - along with other information to help visitors get to grips with the hi-tech public toilets they are likely to encounter in Japan.
Copy the link below and Share with your Friends: