The world's largest floating windfarm is set to be built off the coast of
Scotland
after its developers were granted a seabed lease on Monday.
Statoil, the Norwegian energy company, expects to have five 6MW turbines bobbing in the North Sea and generating electricity by the end of 2017. The company has already operated a single turbine off Norway.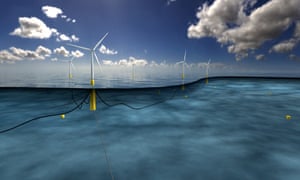 The
Hywind
turbine is one of the frontrunners in a global race to develop flotillas of floating wind turbines that can conquer the deep oceans and reap the strongest winds on the planet. Existing offshore wind turbines, standing on concrete and steel foundations driven into the ocean floor, flounder on heavy costs when depths are greater than about 40 metres.
More than 40 projects around the world are in various stages of development. Most are inspired by rugged oil and gas rigs that have weathered storms for decades. Offshore windfarms also largely avoid the difficulties caused by the visual impact of windfarms on land.
The Hywind windfarm will float 15 miles off Scotland's east coast by Peterhead. The base of each turbine is a floating steel tube containing ballast, which is tethered to the sea bed. The Crown Estate, which manages the seabed, granted the lease on Monday.
Credit:
TheGuardian
Copy the link below and Share with your Friends: