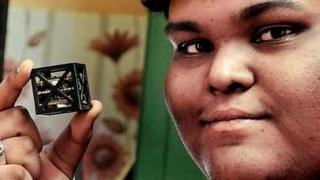 On Thursday, India once again broke a global space record by launching the world's lightest satellite weighing a mere 64 grams, called
Kalamsat
, designed and developed not by professional space scientists and engineers, but by 18-year-old Tamil Nadu student
Rifath Sharook
and his team.
The tiny satellite, named after Abdul Kalam, was flown by a
Nasa
sounding rocket and the lift-off was from the space agency's Wallop Island facility around 3pm (IST). Kalam had his training in the sounding rocket programme at Wallops Island in the '60s. Kalamsat was the only Indian payload in the mission.
Speaking to TOI post Speaking to TOI post launch from Chennai, mission director Srimathy Kesan said that the total flight time of the rocket was 240 minutes and the satellite, assembled at her T.Nagar residence in Chennai, separated from the rocket 125 minutes after lift-off.
"Kalamsat fell into the sea. It will be recovered and Nasa will be sending it back to us for decoding the data,'' she said while pointing out in an emotion-choked voice that the flight was "out of the world and it was a divine intervention."
Explained Kesan: "I am calling it divine intervention because the previous Nasa mission from Wallops got postponed because of weather and we were able to launch successfully today." This one-of-itskind satellite, which can be held in one's palm is a 3.8cm cube and its structure is fully 3-D printed with reinforced carbon fiber polymer. It is equipped with a nano Geiger Muller counter which will measure radiation in space. Added Kesan: "It is the only cube to be converted into a satellite in this mission," she added.
Copy the link below and Share with your Friends: